Bioinformatics Resource Core
The BiRC Core (BiRC) is a robust multidisciplinary resource for supporting data science and high-throughput biomedical studies in the PR-INBRE network and advancing local capability in bioinformatics and computational biology. The mission of BiRC is to provide researchers of the PR-INBRE network and their collaborators with all the experience and expertise required to efficiently and cost effectively conduct next generation research in a collaborative environment.
BiRC will stimulate use of core facilities with training and education support to DRPP investigators, specifically in the applications of bioinformatics, to increase  scientific productivity in the network, include bioinformatics in DRPP research projects and increase the research capabilities in Bioinformatics of the investigators at the PR-INBRE through a core lead by an interdisciplinary group of investigators, that combines the expertise of biologists, biochemists, bioinformaticians, mathematicians and computer scientists.
PR-INBRE Bioinformatics Resource Core (BiRC) offers a wide spectrum of activities, capabilities, and expertise for supporting Biomedical research, education, and services. In general terms, these may be classified as follows:
BiRC Subcores Diagram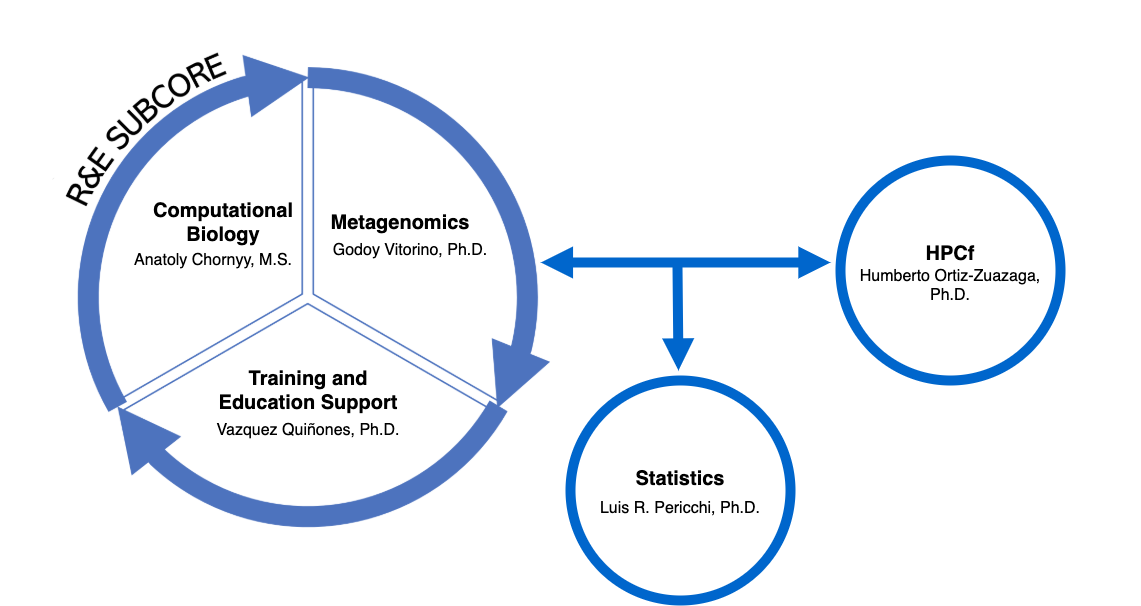 The overall goal of the Bioinformatics Research Core (BiRC) is therefore to increase research collaborations in bioinformatics between PUI researchers and Lead institution researchers by providing bioinformatics infrastructure, training and education support.
Bioinformatics Educational Modules
Developed by Dr. Jaime Seguel, Faculty at UPR-Mayaguez, and students
Modules Topics
Bioinformatics
Biology of Genomes
Big Biomedical Data Analysis
Statistical Methods in Bioinformatics
Available in YouTube Channel and PRINBRE Moodle:
Click on any of the following links to view Bioinformatics Educational.
PRINBRE Moodle (Need to login in to your account in order to access modules contents.)
Meet PRINBRE Cores Directors and Staff Members