The University of Puerto Rico (UPR), a state-funded institution that was established in 1903 as Puerto Rico's first public institution of higher education, is host to the Puerto Rico IDeA Network of Biomedical Research Excellence (PR-INBRE) at the UPR Medical Sciences Campus (UPR-MSC) under the name "Alliance for Biomedical Research Excellence".
"The NIH Institutional Development Award (IDeA) is a congressionally mandated program that builds research capacity in states that historically have had low levels of NIH funding. It supports competitive basic, clinical, and translational research, faculty development, and infrastructure improvements. The program aims to strengthen an institution's ability to support biomedical research, enhance the competitiveness of investigators in securing research funding, and enable clinical and translational research that addresses the needs of medically underserved communities."
"The IDeA Networks of Biomedical Research Excellence (INBRE) program supports a statewide biomedical research development network in each IDeA-eligible state (25 total) that partners research-intensive institutions with primarily undergraduate institutions."
Click on the following link to find more info about IDeA-eligible states. IDeA-Eligible States
IDeA-eligible states are shaded on the map below:
The PR-INBRE network consists of two research institutions that include the UPR-MSC and University of Puerto Rico Rio Piedras Campus (UPR-RP), seven primarily undergraduate institutions (PUIs) that include both public and private universities, and ten outreach institutions (OIs). PR-INBRE is a program whose efforts are to promote the continued development of biomedical research infrastructure in all of Puerto Rico through the implementation of a strengthened and cohesive administrative structure, the integration of common scientific research and education interests through collaborations, and implementation of mentoring initiatives for students, post-docs, and young faculty across the entire network.
Network Institutions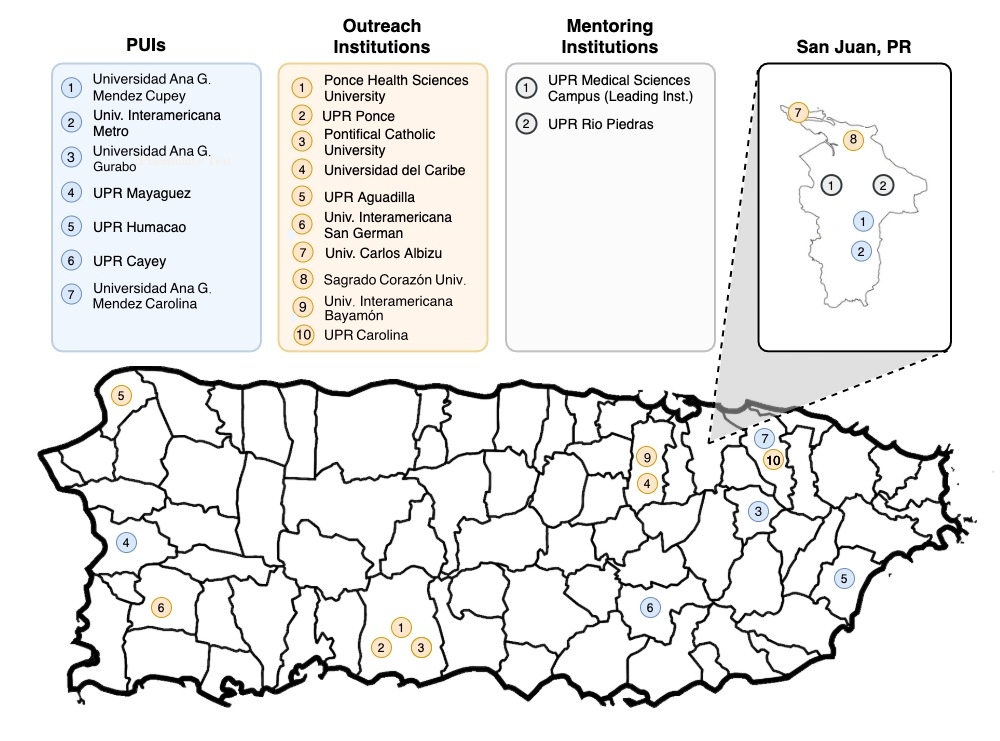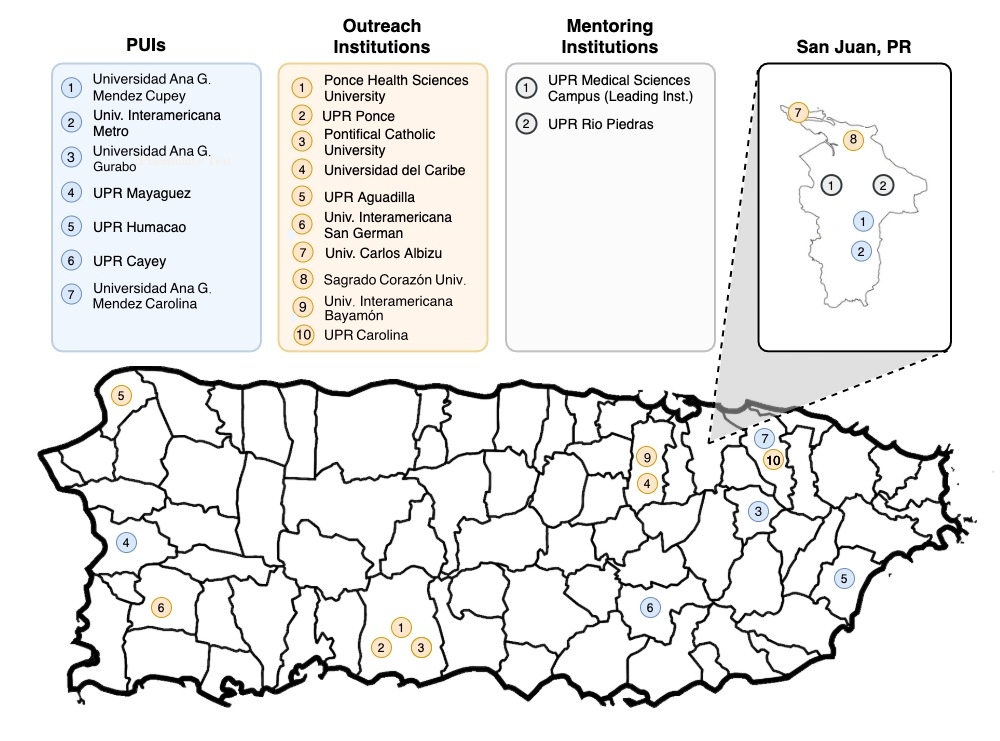 The PR-INBRE is organized in a circular structure to foster maximum collaboration and cooperation between individual units. The overarching objective of the PR-INBRE is the development of Early Career Investigators in the PR- INBRE Network by a structured mentoring and research support program. Therefore, the Developmental Research Projects Program is at the center of our organizational structure where a strong Administrative Core led by the PI, Dr. Jose R. Rodriguez-Medina, supports it. Moreover, the CRI, BiRC and STCE perform a critical function by providing research infrastructure, outreach and mentoring activities, and assistance to JRAs.
Organizational Structure Diagram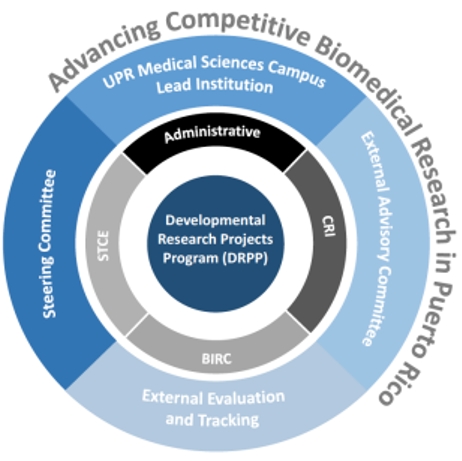 PRINBRE will advance the development, coordination and sharing of research resources and expertise and will expand research opportunities for the biomedical research community in Puerto Rico, with emphasis on the Primarily Undergraduate Institutions (PUIs) of the Alliance. In addition, PRINBRE impact on Puerto Rico's Workforce and Economy focuses on development and enhancing the research capacity in science and biotechnology in Puerto Rico.
The main goals of the Puerto Rico IDeA Network Biomedical Research Excellence (PRINBRE) are to:
Enhance and strengthen the scientific infrastructure and research competitiveness of Puerto Rico in four thematic research areas that include Neurosciences and Behavior, Drug Discovery and Development, Molecular Medicine, and Bioinformatics, deemed to be key to advance Puerto Rico's biomedical and behavioral research capacity
Elevate the productivity, competitiveness, and number of human resources needed to attract established investigators in those research areas.
Promote the development of research skills of talented junior investigators and gifted students. The Alliance created counts with three distinct institutional types, namely Mentoring, Primarily Undergraduate Institutions (PUIs), and Outreach Institutions (OIs).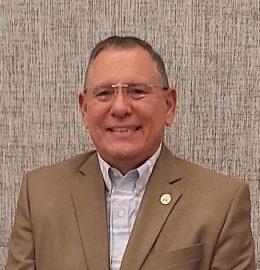 Dr. José Rodriguez Medina
Principal Investigator
Program Director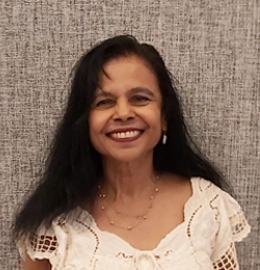 Dr. Suranganie Dharmawardhane
Co-Principal Investigator
DRPP Core Director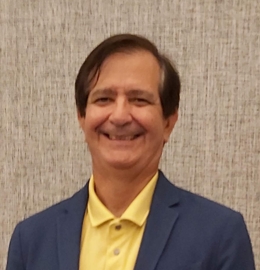 Dr. José Rodriguez Orengo
STCE Core Director
Dr. Beatriz Zayas
CRI Core Director
ChemTox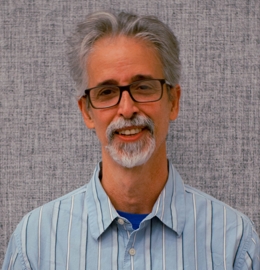 Dr. Humberto Ortiz
BiRC Core Director
Cyber Infrastructure
Meet PRINBRE Cores Directors and Staff Members