The Administrative Core will to provide the programmatic direction and the organizational governance structure necessary to guide the PR-INBRE Program in the successful execution of the overall and the specific aims of the program. These aims will be achieved by overseeing the implementation of dynamic research opportunities for faculty, students and postdoctoral associates, training activities for technical instruction and professional development, and enhancement of research and teaching infrastructure at the PR-INBRE network institutions
The Administrative Core will oversee the continuous internal and external evaluation of these activities. This includes implementation of changes that may be required by recommendation of the External Advisory Committee and the External Evaluation and Tracking consultants of the program. The Administrative Core also implemented awards for productivity and achievement:
Recognizing DRPP investigators having the highest number of publications, grants awarded and  other productivity measures.

Recognizing graduate and undergraduate JRAs having the "best poster" at the Annual Retreat with a cash prize for materials and supplies.
The organizational leadership of the PR-INBRE will consist of a Program Director (PI/PD), Program Coordinator (PC), External Advisory Committee (EAC), the IDeA Program Officer at NIH (IDeAPO), Steering Committee (SC), and External Evaluation and Tracking Consultants (EET). The Bioinformatics Resources Core (BiRC), Centralized Research and Instrumentation Core (CRI), Science and Technology Competency and Education Core (STCE) will support training activities of the Developmental Research Project Program (DRPP) that includes the DRPP Investigators, Mentors, Students and Postdoctoral Associates.
PRINBRE Organizational Leadership Diagram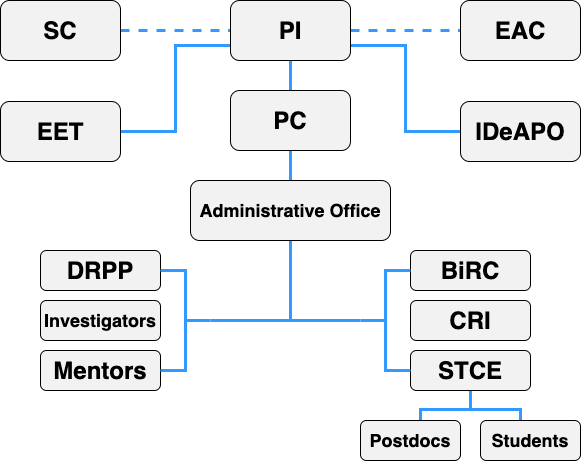 Meet PRINBRE Cores Directors and Staff Members